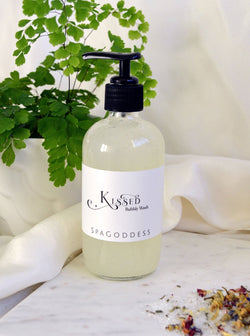 The mild sudsing action of this cleanser gently removes make-up, sunscreen, along with the dirt + grime of the day. This gentle face + body wash is specially formulated to kiss skin clean of dirt, oils + residues without drying. Enriched with a Synergistic Blend of Essential Oils consisting of Chamomile, Rose Geranium and Lavender. Calming, Healing + Regenerative, these oils work to leave your skin clean, clear + bright.
Ingredient Highlights
Aloe Vera is known for its healing, soothing, antibacterial and moisturizing properties. Naturally cooling, Aloe Vera is used to relieve burning, itching, irritated skin. Recent studies indicate that Aloe Vera has the ability to accelerate skin cell growth.
Calming Chamomile, known for its anti-inflammatory properties, speeds healing, and helps fight puffiness.
Lavender is beneficial in skin care as it works to regulate sebum production, fosters the regeneration of new skin cells and soothes inflamed skin. Known to be cooling, healing and tonic, Lavender Essential Oil is both relaxing and revitalizing for your mind, body and spirit. It is an adaptogen which means that works with your body's specific needs adapting itself to be soothing or revitalizing as needed.

Pro-Vitamin B5 is an anti-inflammatory agent which is known to improve and increase the moisture-retention capacity of the skin. This helps dry skin stays supple and elastic for longer. It stimulates the regeneration of skin cells and aids healing.

Decyl Glucoside and Cocoamidopropyl Betaine are mild, vegetable-sourced surfactants or sudsing agents.
Skin Types
Acneic, Oily, Normal, and Combination
Directions
Cleanse your face and neck every morning and night. Massage into wet skin and rinse well. Follow with toner and moisturizer. Use 1-2 times per day. Always cleanse in circular motions in an upward direction. Be gentle with your skin, you do not need heavy pressure to cleanse. And you don't need to use anything but your fingertips, washcloths are optional. Kissed also makes a lovely body wash or shower gel.
Aloe barbadensis (organic aloe) juice, decyl glucoside, cocamidopropyl betaine (coconut source), organic vegetable glycerin (non-GMO soybean source), gluconolactone (and) sodium benzoate, citric acid, Lavandula angustifolia (organic lavender) essential oil, Anthemis nobilis (organic Roman chamomile) essential oil, Pelargronium gravolens (organic rose geranium) oil, xanthan gum (polysaccharide gum), dl-Panthenol (pro-vitamin B5), love.